Simple to use | Easy to learn | Powerful | Productive | Precise
Precise
The new Point Probe Software Control Button gives you software control at the tip of your finger. This feature lets you sequence through Point Protocol steps or Item testing steps with just a simple click. With this feature you never need to interrupt your testing session with a patient to advance to the next testing sequence step.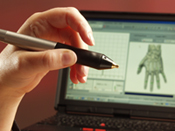 Software and Hardware integration has never been easier. In just ten minutes after unpacking your new Avatar components you will be able to explore the advanced features built into this powerful system.
The new Avatar 4.0 Software has many new advanced features that will enhance your overall testing experience. For a quick look at Avatar's features please click the banner below.
Please feel free to explore this website and learn more about the Avatar System by VeraDyne.
Please contact us if we can be of any further assistance.