Simple to use | Easy to learn | Powerful | Productive | Precise
Simple to use
Avatar 4.0's streamlined, fully integrated database features flatten the learning curve. Every aspect of this new software is obvious and simple taking the guesswork out of the overall equation. You'll be mastering your testing procedures in no time with the help of Avatar 4.0.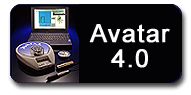 Software and Hardware integration has never been easier. In just ten minutes after unpacking your new Avatar components you will be able to explore the advanced features built into this powerful system.
Continue the tour